New Patients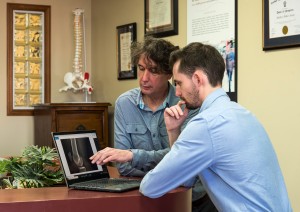 Welcome to Fisher Heights Chiropractic Clinic! You'll find that our office is a warm, inviting place with a friendly team that's ready to greet you, including Eleanor, Dr. Bourgaize's wife. We look forward to meeting you!
Your First Visit
When you arrive, our front desk staff will have the forms we need you to fill out ready for you. You can also find this paperwork online and bring it in completed. Then, you'll be escorted to a private room to talk with Dr. Bourgaize. Together, you'll go through your health history and discuss your goals. Then, we'll get started with a high-tech examination that includes
Orthopedic and neurological tests
Postural analysis
Range of motion testing
X-rays, if needed
We'll discuss our findings and give you a chiropractic adjustment if you're in acute pain or have been a chiropractic patient before. In total, you can plan on being here for 30-45 minutes.
Your Second Visit
When you return, you'll receive a full report of your results from the initial examination. We'll go through your X-rays and after all the testing is done, make detailed, personalized recommendations for your health care. We'll discuss the types of care we offer so that you can choose the treatment plan that you want, and we'll begin it on this day. You'll be informed of your insurance coverage and all fees, and leave with a folder full of useful information on your condition, who we are and what we do.
Fisher Heights Chiropractic Clinic | (613) 723-5555