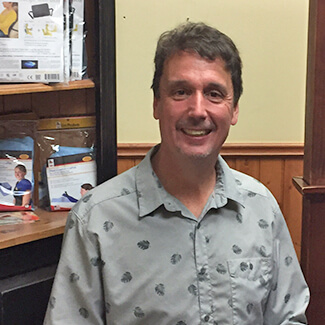 Meet Dr. Ward Bourgaize
Discovering True Wellness
A guest speaker during Dr. Bourgaize's days at the University of Waterloo helped him decide on his future. He'd been considering a master's degree in health administration, medical school or chiropractic college. "The man drew a line on the chalkboard with death on one side and wellness on the other. He asked us that if we weren't in pain, which side would we be closest to?
Everyone assumed the answer was wellness. The speaker, however, said that someone could feel fine and not know they have cancer. Or an Olympic athlete with a broken arm might be in pain but still have an extremely high level of wellness. It was like a lightbulb went off in my head."
Delivering Excellent Health Care
Talking to the speaker afterward, Dr. Bourgaize was told that the chiropractic profession would be the one field that truly promotes wellness. "I loved the philosophy of wellness care." The decision was made – after graduating with honours in Kinesiology and Health Studies from the university, he entered Canadian Memorial Chiropractic College.
I love the one-on-one interaction with my patients, knowing that with just my knowledge and hands, I can help them get better. After 25 years in practice, I enjoy every day at work.
Since earning his Doctor of Chiropractic, Dr. Bourgaize has taken regular continuing examination courses on chiropractic techniques such as Diversified, Drop Table, Activator Methods® and Chiropractic BioPhysics® (CBP).
CHIROPRACTIC CARE »
Loving Life in Nepean
When he's not in the office and not playing hockey, Dr. Bourgaize spends time with his family. His wife Eleanor works at Fisher Heights Chiropractic Clinic. They have three children: Joshua, who loves drama, Dawtson, who plays sports and Kayleigh, who is a competitive hockey nut. Together, they enjoy traveling all around the world, having visited the USA, Africa, China and Europe and also spend all the time they can at their cottage.
They stay active through all four seasons with skiing, soccer and hockey. Sirius (Black) is their newest family dog and an important part of the family.

Dr. Ward Bourgaize, Nepean Chiropractor | (613) 723-5555