Chiropractic Care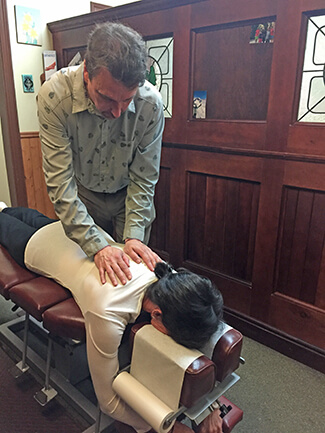 Chiropractic is a drug-free, surgery-free form of health care that works with your natural healing abilities. Your body functions as a whole, not as separate parts. These parts, including every organ, cell and tissue, operate thanks to our nervous system. When there is an interference or subluxation present, your nervous system is unable to work at its highest possible levels. Signs and symptoms may result, such as pain or disease.
A chiropractic adjustment from Dr. Bourgaize is designed to alleviate the pressure on your nervous system by removing any interference, allowing your body to reach its optimum potential. The many conditions we often help include :
Back pain
Extremity problems
Headaches
Motor vehicle accidents
Neck pain
Shoulder pain
Workers' compensation cases
Choose the Care Type That Works for You
Since discomfort is a commonly felt side effect of nervous system interference, pain relief is often a benefit of chiropractic care. At Fisher Heights Chiropractic Clinic, we offer three separate types of care that you can choose from, all with different advantages:
Relief Care. We work to alleviate your symptoms and help you feel better.
Corrective Care. We seek to rehabilitate your spine and joints.
Wellness Care. You're feeling good, but you want to keep it going or continue improving.
We'll usually see you more often at the start of care, diminishing the frequency of your visits as you improve.
A Personalized Plan for Better Health
Dr. Bourgaize has advanced training in many chiropractic techniques, and may use a combination of them depending on what's right for you:
Activator Methods®
Chiropractic BioPhysics®
Diversified
Drop Table Technique
Additionally, we may use other modalities or make recommendations for exercises and products that can help you get better quickly. Your therapeutic exercises will change as you progress with your care, ensuring that we make changes as you start to see results.
CONTACT US »
Getting Started
During the adjustment, we're working on restoring the proper alignment of your spine and joints. Dr. Bourgaize has over two decades of experience in helping people with various concerns. If you hear a noise during the adjustment, it's perfectly normal and nothing to worry about. Dr. Bourgaize will call you after your first adjustment to see how you're feeling.
Following Up
We've found that our patients may feel better instantly after their first adjustment. They may also feel no different while some feel slightly more sore or stiff. As we progress toward normal alignment, your soft tissues can go into spasm, resulting in discomfort.
Rest assured we will get you relief as quickly as we can, making all necessary recommendations along the way. With massage therapy on-site, Dr. Bourgaize may also recommend that you see these practitioners to help speed your healing.
We offer direct billing to your insurance. Contact us today to find out more!

Fisher Heights Chiropractic Clinic | (613) 723-5555